Gore precision coaxial
---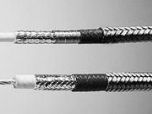 High-speed digital system designers to use custom designed Gore coaxial cable assembly to meet the electrical requirements and the most challenging. Most Gore uses expanded polytetrafluoroethylene (ePTFE) material forming a low dielectric constant (1.3) insulation structure, durable, thin thin cable can be used, but interconnected stable and reliable system to meet the specific needs good plan.
---
Advantage
---
Form factor
In addition to coaxial form, Gore can be made for the cable impedance differential signal, but also the production of key signaling applications for coaxial cable and ordinary ribbon ribbon cable assemblies are supplied fully tested. If the standard connector does not fit, Gore will design custom components to meet specific customer requirements.
---
Impedance control for improved signal fidelity
Proper impedance matching can minimize reflection terminal, improves signal fidelity, is essential for precision finished cable assembly. To ensure proper impedance matching, Gore made ​​all the coaxial cable assemblies precision engineering components, extensive quality checks during the manufacturing process.
---
Maintaining fidelity low-loss
Gore precision coaxial low loss characteristics of the signal components from cutting-edge design projects, focusing on the production process and excellent dielectric properties of the finished details. Finished cable can maintain waveform, so that the signal propagation distance is longer, without distortion or attenuation when dealing with weak signals. For example, in LSI (large scale integration) applications, a low loss cable assembly does not need to enlarge the line driver.
---
Small signal delay
Gore signal coaxial cable assemblies with minimal delay, about 1.15 ns / ft, which greatly increases the propagation speed, optimizing the performance of interconnected, in urgent applications can shorten the waiting state, such as computer peripherals and synchronization of switching systems clock line. Failure to achieve precise speed control may not improve performance. Gore cables and components processing ensures minimal delay difference between the lines.
---
Capacitive load is small
Capacitance Gore expanded polytetrafluoroethylene (ePTFE) dielectric material than most about the same impedance capacitor insulating material 20% smaller, which greatly reduces the load on the drive system output, but also to maintain the integrity of the signal waveform, the feature is particularly useful in the detection of low signal strength relates to the application.
---
Anti-jamming performance enhancements
Due to ever increasing speed of the system, the designer must use a differential signal to improve the noise margin of the critical path. Gore understands the unique requirements of different signals, for the development of symmetrical cable and connector system; we can help determine the true test and play these interconnections differential performance.
---
Signal quality
Gore's expanded PTFE dielectric material created a small controlled impedance cable for optimal performance. Our production process to achieve the miniaturization of conductor size, to achieve the minimum AWG 42 (0.0025 '). Gore permittivity dielectric material is less than 1.3 and a loss tangent of less than 0.0002, to maintain heat and chemical resistance of PTFE, easy to install and assemble the connector to withstand the process of high temperature and high pressure.
---
Gore Microwave Cable
Gore offers a variety of standard number of precision coaxial cable millimeter-wave microwave cables, some of which are shown below. Shelf CXN3449, CXN3450, CXN3506, CXN3507, CXN3508, CXN3500 other commonly used microwave cables, the Division I all cables are imported directly from Gore original, great price advantage, welcome to inquire.
---
| Part Number | Impedance(ohm) | AWG | Inside diameter(mm) | Description |
| --- | --- | --- | --- | --- |
| CXN1839 | 50 | 12 (19/25) | 0.275 (7.0) | Silver-plated copper wire, braided shield, polyurethane sheath |
| CXN3385 | 50 | 18 (19/30) | 0.162 (4.1) | Silver-plated copper wire, braided shield, high temperature materials |
| CXN2658 | 50 | 24(7/32) | 0.104 (2.6) | Silver-plated copper wire, braided shield, high temperature materials |
| DXN2249 | 50 | 26 (7/34) | 0.78 (19.8) | Silver-plated copper wire, braided shield, high temperature materials |
| CXN3403 | 50 | 28 (7/36) | 0.064 (1.6) | Silver-plated copper wire, braided shield, high temperature materials |
| CXN3332 | 50 | 30 (7/38) | 0.06 (1.5) | Silver-plated copper wire, braided shield, high temperature materials |
| CXN3404 | 50 | 30 (7/38) | 0.058 (1.5) | Silver-plated copper wire, braided shield, high temperature materials |
| CXN3515 | 50 | 32 (7/40) | 0.045 (1.1) | Silver-plated copper wire, braided shield, high temperature materials |
| CXN3369 | 50 | 38 (7/46) | 0.018 (0.5) | Silver plated alloy, high-temperature materials |
| CXN3306 | 75 | 24 (7/32) | 0.124 (3.1) | Silver-plated copper wire, braided shield, high temperature materials |
| CXN1458 | 95 | 30 (7/38) | 0.098 (2.5) | Silver-plated copper wire, braided shield, high impedance |